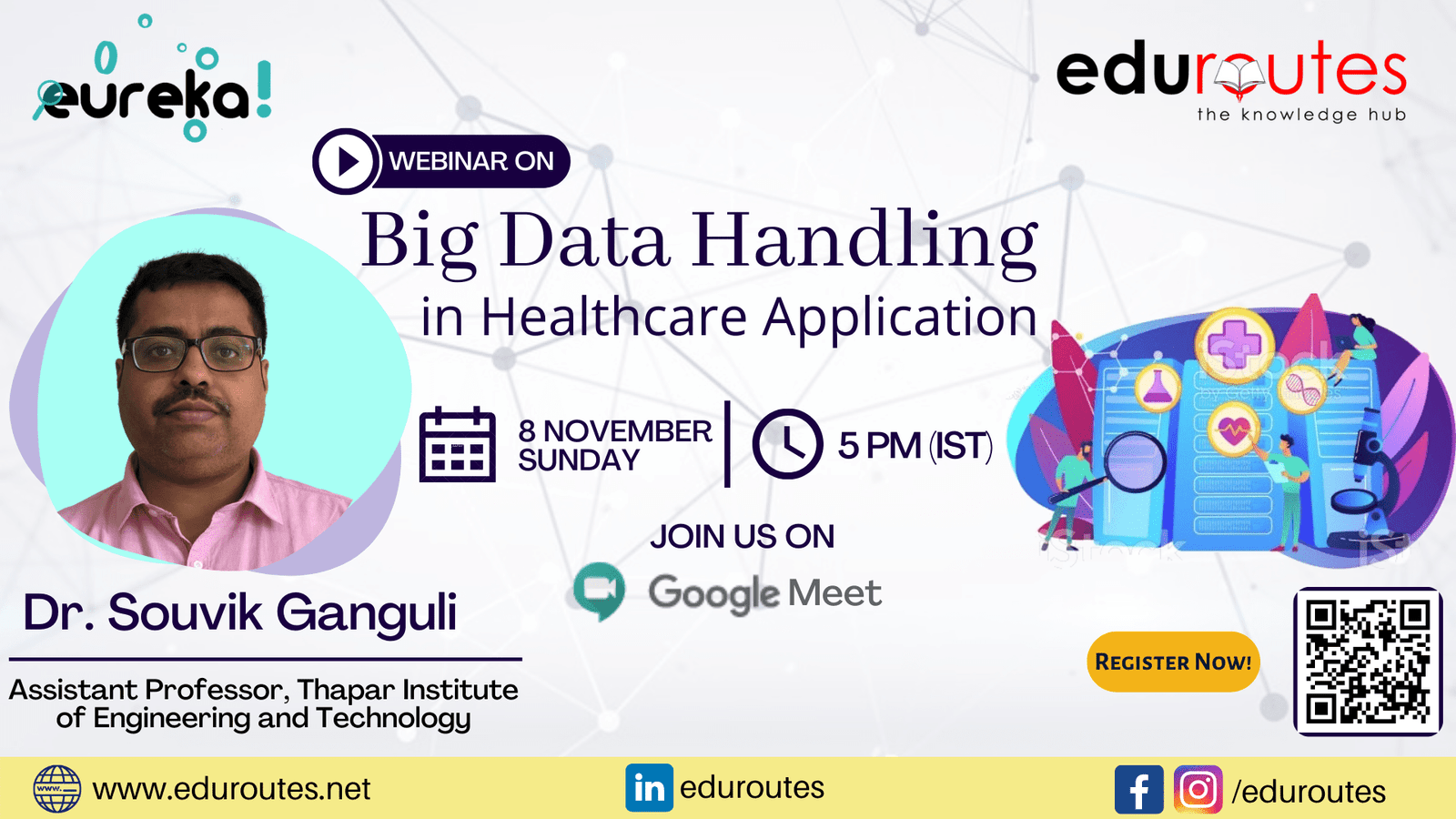 Big Data Handling in Healthcare Application
94
94 people viewed this event.
Over the last decades, there has been growing enthusiasm of the potential usefulness of these massive quantities of data, called Big Data, in transforming personal care, clinical care and public health.
Initially, the healthcare industry refrained from using Big Data. The main reason behind this reluctance was the resistance to change, as the healthcare providers diagnosed and provided treatment using their own clinical judgment. But now, with the explosion of Big Data and its applications, the healthcare industry has got inclined towards better medical practice through analysis of data regarding their patients.
It's quite evident from its applications that Big Data has left its undeniable imprints in the healthcare sector as well. The advent of Big Data in this industry will lead to a better healthcare system that hugely benefits everyone involved in it, leading to better life and better career opportunities as well.
*In this webinar, you'll learn:*
The potential benefits of Big Data for healthcare
Big Data in public health
Big Data-Based Healthcare Systems
Ethical and legal issues for the effective use of Big Data in healthcare
ABOUT SPEAKER
Dr. Souvik Ganguli is presently working as the Assistant Professor in the Department of Electrical & Instrumentation Engineering, Thapar Institute of Engineering and Technology, Patiala since June, 2009. He has a total of 16 years of work experience in industry, teaching and research. His research interests include model order reduction, identification and control, nature inspired metaheuristic algorithms, electronic devices and renewable energy applications. He has published 7 SCI papers and about 50 Scopus papers and book chapters. He has been serving as a reviewer of several reputed journals. Recently, he has been granted an Australian Innovation Patent for his contribution in industrial cyber physical system.
*Topic: "Big Data Handling in Healthcare Application"*
*Speaker: Dr. Souvik Ganguli (Assistant Professor, Thapar University)*
*Date and Time: NOVEMBER 8th, SUNDAY AT 5:00 PM*
*Registration link: https://forms.gle/rpxtTDJa6sWHpJkt9*
_Registration is required to participate._
_We are looking forward to welcome you to this online event!_
Follow us:
Instagram: https://instagram.com/eduroutes
Facebook: https://www.facebook.com/eduroutes.knowledge
LinkedIn: https://www.linkedin.com/company/eduroutes
Twitter: https://twitter.com/edu_routes
#eduroutes
#webinar #bigdata #datascience #machinelearning #technology #artificialintelligence #ai #data #iot #dataanalytics #analytics #deeplearning #business #cloudcomputing #cloud #healthcare #health #covid #medical #medicine #doctor #coronavirus #hospital #nurse #healthylifestyle #doctors #wellness #healthy #healthyliving