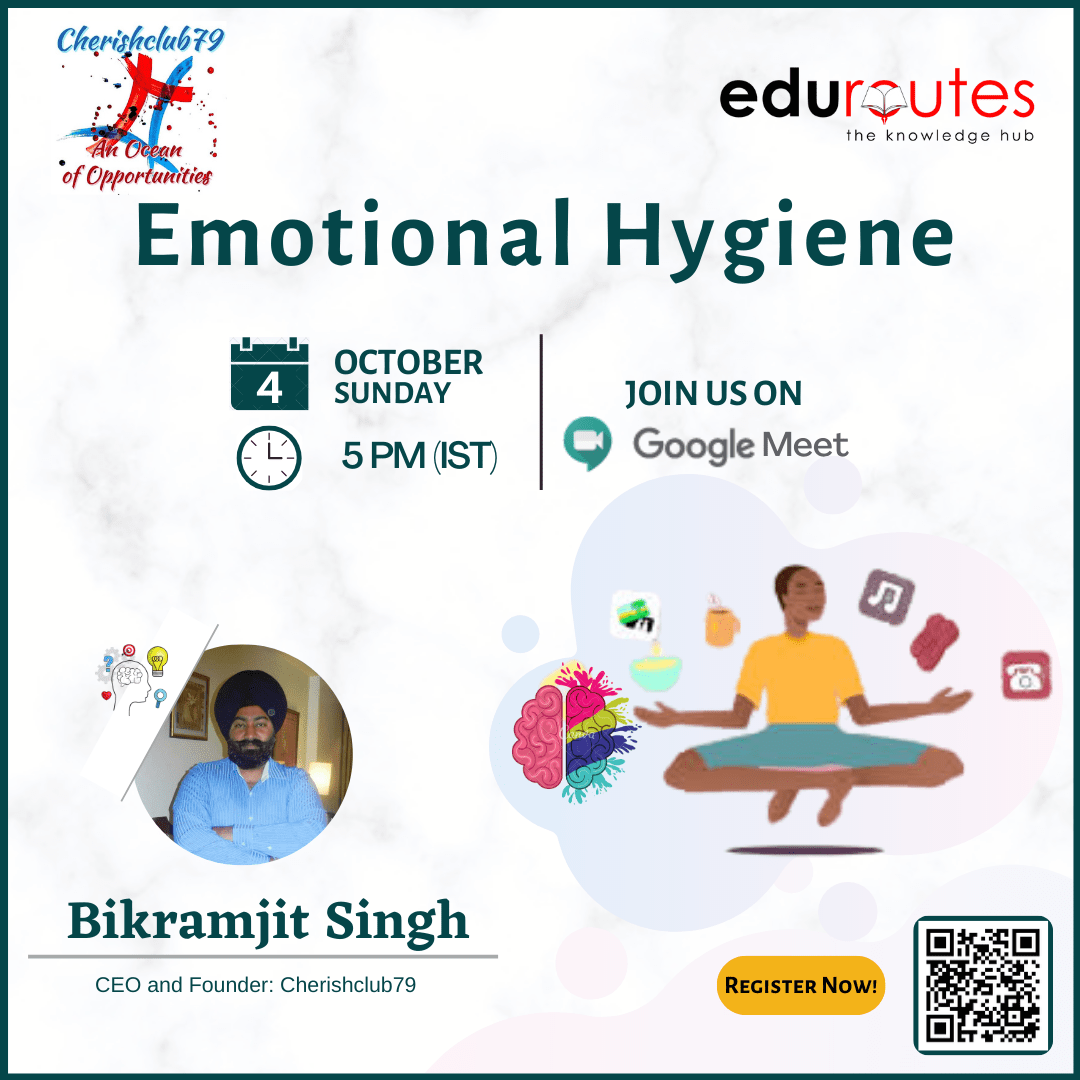 Emotional Hygiene
78
78 people viewed this event.
How do we keep our mind "clean and healthy"? It's not like we could brush it like teeth or wash it with soap like our bodies. But just like our teeth and bodies, our minds can be prone to emotional clutter. This can bog us down and prevent us from living our best life if we don't practice psychological hygiene regularly.
*In this webinar, you'll learn:*
1. How do we unlock our minds?
2. How do we deal with our emotional imbalance?
3. What are positive & negative emotions? How do they affect us?
4. How to overcome emotional imbalance?
5. Ways to improve emotional health and wellness?
*Topic: "EMOTIONAL HYGIENE"*
*Speaker: MR. BIKRAMJIT SINGH (CEO and Founder cherishclub79)*
*Date and Time: OCTOBER 4th, SUNDAY AT 5:00 PM*
*Registration link: https://forms.gle/FcAbwMeGXfvYFYoY9*
_Registration is required to participate._
_We are looking forward to welcome you to this online event!_
Follow us:
Instagram: https://instagram.com/eduroutes
Facebook: https://www.facebook.com/eduroutes.knowledge
LinkedIn: https://www.linkedin.com/company/eduroutes
Twitter: https://twitter.com/edu_routes
#eduroutes
#emotionalhealth #mentalhealthawareness #selfcare #anxiety #selflove #love #depression #motivation #health #mentalhealthmatters #wellness #mindfulness #covid #healing #fitness #life #loveyourself #therapy #inspiration #happiness #positivity #positivevibes #meditation #quotes #psychology #mindset #recovery #wellbeing