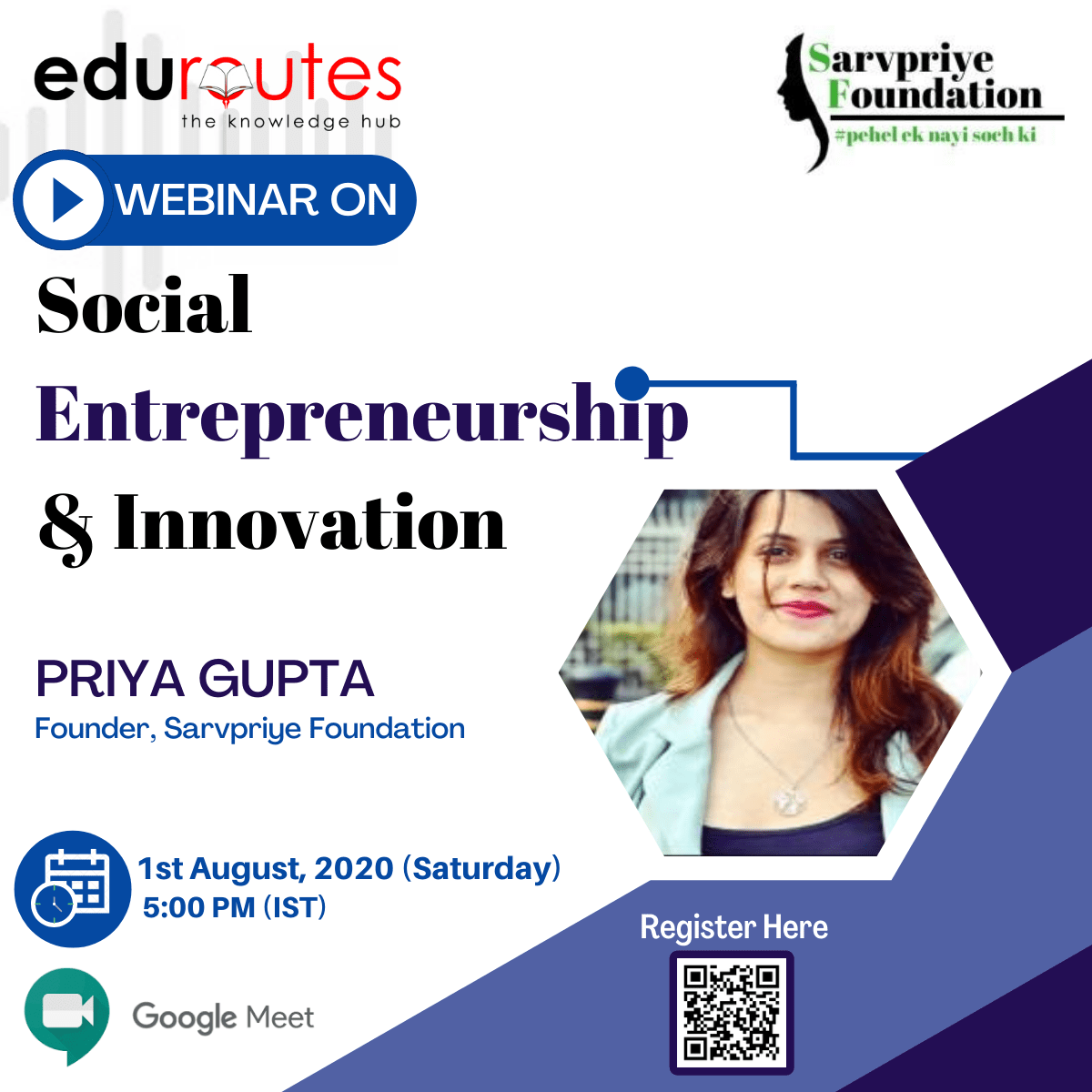 Social Entrepreneurship and Innovation
77
77 people viewed this event.
"I think, as a society, we've been too focused on post-conflict resolution, but there's so much potential for preventing conflict from happening at all!" – Steph Korey
Our Upcoming Webinar – "Social Entrepreneurship and Innovation"
With the situation in which we all are, people have begun to think is this the end or is it the start of a revolution that could change the society, where already women and children are deprived of resources and basic amenities, where girls are still abandoned by the families and women are still not given that place in our society.
With all this going on, people are really anxious of knowing how the situation will come under control and how can we as common people help other person, how innovation can bring change in the society?
All these questions will be answered by Ms. Priya Gupta ( Founder, Sarvpriya Foundation) She is social entrepreneur and is in the social entrepreneurship ecosystem for more than two years now.
To gain maximum insightful knowledge with respect to this issues join us on 1st August 2020 (Saturday) at 5:00 pm (IST)
Mode – GoogleMeet
Book your Slot, only limited seats.
Prior registeration is mandatory.
Registration Link :
#webinar #covid #online #business #entrepreneurmindset #seminar #entrepreneurship #webinars #certification #education #marketing #training #entrepreneurlife #free #coaching #workfromhome #entrepreneur #workshop #stayhome #seminaronline #learning #onlinetraining #repost #live #digitalmarketing #elearning #ementorship #eduroutestheknowledgehub