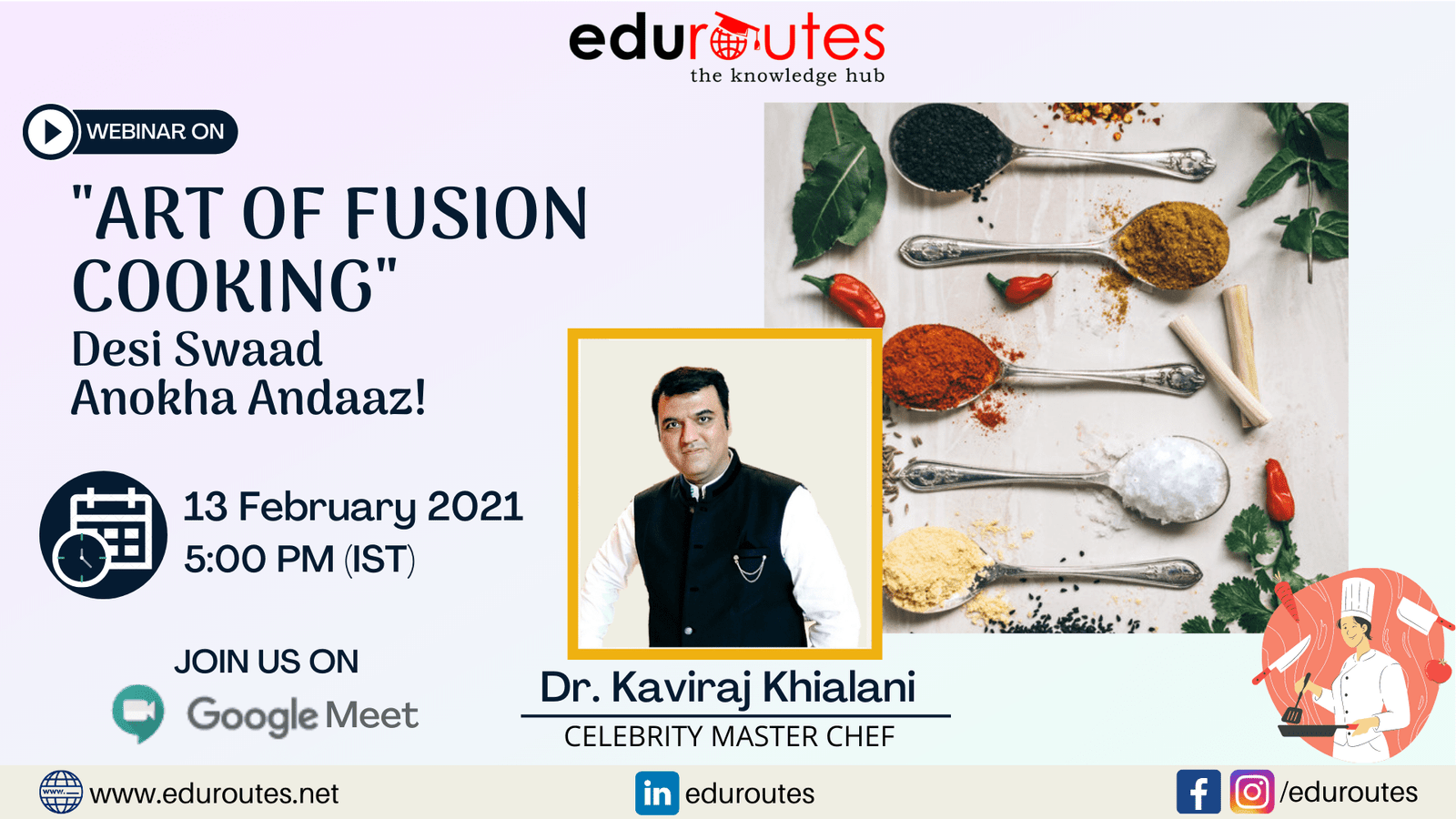 Webinar: "ART OF FUSION COOKING": Desi Swaad Anokha Andaaz! – 13 February
318
318 people viewed this event.
ART OF FUSION COOKING: A latest trend in the food industry, which talks about mix-n-match fundas with food and trying to create something new in terms of taste, flavours, presentation and looks! a concept which has to be understood well before experimenting with it! Here is your chance to pick up some simple and easy fundamentals of fusion cooking as an art suitable for all age groups and for those who have a passion for cooking!
In This Webinar, You'll Learn:
* The meaning of fusion cooking.
* Basics of fusion cooking starting from our simple Indian recipes with a new twist.
* How to start experimenting with fusion foods.
* What can go wrong with this style of cooking.
* How to create wonders on your plates.
* Making an impression on your audience with new variations.
* Expert Tips on how to create that perfect balance in your recipes.
* A few interesting menu ideas on the eve of Valentine's Day!
ABOUT THE SPEAKER
CHEF KAVIRAJ is a renowned name for having excelled in the field of Culinary Arts since over 21 plus years. Besides having worked with several brands like the Taj Group & Kuwait Airways, he is specialised in over 33 International Cuisines.
Chef has also won several National and Global Awards in recognition of his valued contribution to the Food Industry.
He is an Author, Mentor, Food Columnist with over 21 Global Publications, Health & Lifestyle Specialist, Food Designer, Consultant & has also been featured on various Food Shows on Star Plus and Colors Television.
*Topic: "ART OF FUSION COOKING" : Desi Swaad Anokha Andaaz!"*
*Speaker: DR.KAVIRAJ KHIALANI- CELEBRITY MASTER CHEF*
*Date and Time: 13th February 2021, Saturday at 5:00 PM*
*Registration link: https://forms.gle/LqUuBJA8xWKpX5ni7*
_Registration is required to participate._
_We are looking forward to welcoming you to this online event!_
Follow us:
Instagram: https://instagram.com/eduroutes
Facebook: https://www.facebook.com/eduroutes.knowledge
LinkedIn: https://www.linkedin.com/company/eduroutes
Twitter: https://twitter.com/edu_routes
#eduroutes #webinar #fusionfood #food #foodie #foodphotography #instafood #foodstagram #fusion #yummy #foodblogger #foodgasm #foodies #homecooking #indianfood #foodlover #delicious #asianfood #healthyfood #homemade #dinner #foodiesofinstagram #tasty #cooking #instagood #restaurant #vegetarian #cheflife #streetfood