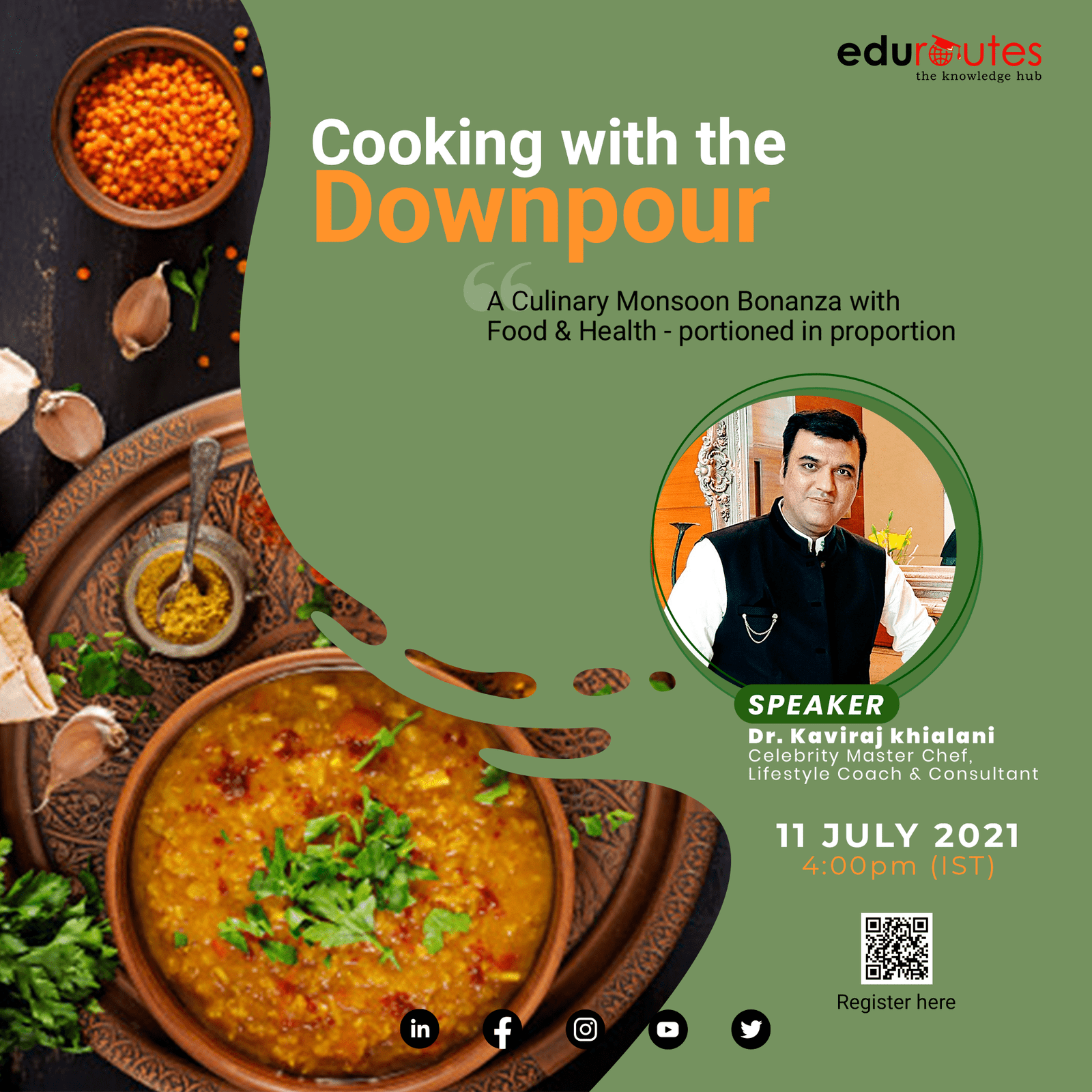 "Cooking with the Downpour "( A Culinary Monsoon Bonanza with Food & Health – portioned in proportion)
192
192 people viewed this event.
Aren't simple pleasures the most memorable? Don't we all crave the distinct aroma of wet mud rising from the earth? When the rains take over, the idea of steaming pakoras is obvious. Those delectable, crisp munchies team quite well with a hot cup of tea on a rainy day. Your favourite veggies are finely chopped and blended with batter, fried into quick bites. Serve along with chutney or dip and give into the crunch. We bring you an exciting webinar to make monsoons more memorable.
What will we learn in this session :
1. Care to be taken with cooking during the monsoon season.
2. Picking and choosing the right ingredients.
3. What to eat and delete during monsoon time.
4. Substitutes that can be adapted for healthy eating.
5. Understanding the need to plan the right meal or dishes during the rainy season.
6. Suggestions and ideas on recipes for monsoon cooking.
7. How to fix that balance between cheat days, Binge eating and staying fit.
8. Ideas on some soups and one meal dishes which can suit monsoons.
9. How to use the first in, first out method during cooking and its importance.
10. Being able to cook with a mindful approach and keep yourself and your family at the peak of health during pandemic times.
About the Speaker
CHEF KAVIRAJ is a renowned name for having excelled in the field of Culinary Arts for over 21 plus years. Besides having worked with several brands like the Taj Group & Kuwait Airways, he is specialized in over 33 International Cuisines.
Chef has also won several National and Global Awards in recognition of his valued contribution to the Food Industry.
He is an Author, Mentor, Food Columnist with over 21 Global Publications, Health & Lifestyle Specialist, Food Designer, Consultant & has also been featured on various Food Shows on Star Plus and Colors Television.
Topic: "Cooking with the Downpour"
( A Culinary Monsoon Bonanza with Food & Health – portioned in proportion)
Speaker: Dr. Kaviraj Khialani (Celebrity Master Chef, Lifestyle Coach & Consultant)
Date and Time: 11th July 2021, Sunday at 4:00 PM (IST)
Registration link: https://forms.gle/iVp7US8y2XPLJpuv9
_Registration is required to participate._
_We are looking forward to welcoming you to this online event!_